A memory of heroism... a future of peace
Easter Rising presents a day-by-day account of one of Ireland's greatest historical events as told, for the first time, by Patrick Pearse himself.
Background
The death of a parent is a seminal event in each and every life. With the passing of my Irish born mother came the loving recollection of a strong woman who raised me in a cold water flat, cleaned houses for a living, cared for a war wounded husband and coped with the frustrations of an all-male family. Inherent in her was the will to survive and an indomitable fighting spirit, a spirit that is common to the Irish people. At this time, a desire to know more about this spirit and to explore my roots was kindled.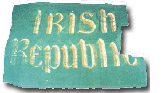 This desire became enflamed by the discovery of an incredible historical event, the Irish revolution of 1916. The events of the Rising combined to form one of the great dramas of our time. Amazingly no one, until now, had ever written a theatrical drama detailing this adventure much less presenting it from the viewpoint of its leader, Patrick H. Pearse – poet, lawyer, visionary, educationalist and rebel.
Historical Significance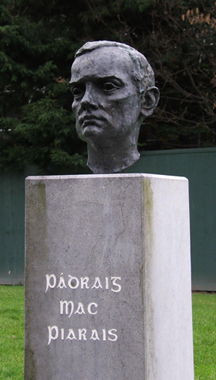 The 1916 Irish Easter uprising was the first successful revolution in 20th century Europe. A courageous band of revolutionaries, though scorned by most of their fellow Irishmen were convinced that through their defeat and deaths they would arouse the Irish people to a victorious fight for independence. Incredibly, they were right and out of the Easter Rising came a resurgence of the Irish nationalism which led ultimately to Irish independence, the Irish Free State in 1922 and the Republic of Ireland in 1948.
Research
Six weeks in Ireland allowed me to walk in the literal footsteps of the heroes of 1916 and to come into contact with the most helpful group of people I have ever encountered – Pat Cooke and Turlough Breathnach at the Pearse museum, Niamh O'Sullivan at the Kilmainham Jail Museum and Michael Kenny at the National Museum of Ireland. Costume sketches were prepared by artist/historian F. Glen Thompson and a multitude of original documents and books were assembled. This material was digested and revised over a period of 18 months resulting in a final script, ready for rehearsal, in the early months of 2000.
Rehearsal Process
As each scene was methodically workshopped with moment to moment precision, Mary Logan and her team of Stratford Festival costumers created a precise replica of the Thompson drawing using materials and weaponry purchased in Canada, England and Ireland. At the same time, Stratford sound engineer, Paul Benedict, created a superb soundtrack that included poetry by both P. H. Pearse and W. B. Yeats as well as a wide selection of authentic Irish rebel music. Simultaneously, over 150 period photos and documents, many provided by Radio Television Erin, were turned into slides. Projectors dissolve units, special lens for rear projection, portable mylar screens, and a full CD based sound system were assembled. One week prior to the April 24 anniversary of the Rising, all elements were in place. All that remained was a series of successful dress rehearsals prior to the moment when Easter Rising would meet its first audience.
The Performance
Easter Rising was a solo performer event presented by a Guthrie Award winning actor at the peak of his powers. As the play reached into the hearts and souls of its audience, people actually relived this exciting moment of Irish History. When the performance was over, audience members felt and understood the true purpose of the play - to appreciate the heroism but to be horrified at the bloodshed of war and to join in the author's intention of moving towards a future of peace.
The Response
Audience reaction was overwhelmingly enthusiastic. Comments on the multi-media production included the following statements:
"Sinclair becomes the character."
"He exudes passion."
"Sinclair's dramatic delivery has incredible impact."
"Like no other play presented on stage in this area."
"The audience is transported to the heart of Dublin and the uprising."
"Sinclair's final soliloquy moved the audience to tears."
"Sinclair manages to present this incredible and tragic story without depressing the audience. There is something uplifting about the hope and sacrifice of Pearse."
"This story should be read, heard and seen in every country of the world."
Viv D'Arcy, Canadian Irish Press Magazine
"At the time of writing I am not sure just when Brian Gordon Sinclair will bring his Easter Rising: The Last Words Of Patrick Pearse to the Toronto area, but, when he does, make sure you take time to see the show. This production, written, directed, and performed by Brian, is like nothing you have ever seen about the 1916 Rising. This one-man show recounts the last days of Pearse, through sound, slides, and music by Danny Doyle. However, the most lasting impression is the on-stage presence of Sinclair himself. As he tells the story of the Rising, you are transported back in time to those few heroic days that would eventually bring about the establishment of the modern state of Ireland. It is no small measure the talent of the actor that allows you, for the short two hours of the play, to forget that he is indeed a thespian and not the great man himself.
"The work that goes with not only acting in this production, but also writing and producing it, is monumental, but all credit to Brian, he pulled it off with wonderful aplomb.
"Brian Gordon Sinclair is a graduate of the National Theatre School of Canada and has a Master of Arts degree in Theatre from the University of Denver. He has also studied at the Royal Academy of Dramatic Arts in London and at the National Film Board of Canada. A recipient of the Sir Tyrone Guthrie Award for Acting at the Stratford Shakespeare Festival, he has performed in Denmark, Holland, Poland, and on the stage of the Moscow Art Theatre in Russia.
"From those of us who made the trip to partake of this event, we say, 'Well done, Brian, well done!'"
Martin Donlevy on Easter Rising, the audio book
"Sounds of rifle fire and booming cannons filled the night at the Dora Keogh Irish Pub on Dec. 5 as a large group of proud Irishmen and Irishwomen gathered for the release of the new Audio Book, Easter Rising: The Last Words Of Patrick Pearse. This two CD set relates the chronicles of the 1916 Uprising by a band of revolutionaries attempting to overthrow their English oppressors in a valiant bid for freedom and independence. Led by Patrick Pearse, a philosopher, poet and teacher, these brave men and women took over the General Post Office plus other important strategic buildings in Dublin and valiantly held them against incredible odds for six long days, during which time, much of Dublin was destroyed. Their defeat and deaths by firing squad at Kilmainham Jail spurred the Irish people to a resurgence of nationalism which led to independence, at least for part of the Emerald Isle.
"This fascinating saga is the heart-felt effort of Brian Gordon Sinclair, a proud Irish-Canadian professional actor, director, author and educator. Following extensive research in Ireland, he wrote, produced and starred in Easter Rising: The Last Words Of Patrick Pearse. After its successful stage debut, he decided that a CD Audio Book was the best vehicle for giving Irish people everywhere the opportunity to reclaim a piece of their heritage. Although the story is well known, it's quite surprising that this is the first and only dramatic production depicting the Easter Rising.
"Brian, with his rich, mellow voice is a superb storyteller! He treats listeners to a wonderful stirring evening of theatre in the comfort of their own homes. Never has history seemed so enthralling and exciting. I know for a fact that many copies of the CD leapt off the shelf and are, at this moment, winging their way to friends and relatives in Ireland as Christmas presents."
Audiofile Magazine
"Brian Gordon Sinclair wrote, produced, and performed this eye-witness account of the 1916 Dublin uprising, as viewed by Patrick Pearse, an insurgent executed by the British for his role in the fighting. Originally a stage piece, the story has been thoroughly reworked for audio, with a discrete and canny use of sound effects, music, and ancillary voices. His own voice is exciting, his delivery dramatic and measured. His is an exciting and moving interpretation of Irish history, not without humor and, above all, immensely human."