The Homerun Kid
The True Story of Ernest Hemingway's Baseball Team
Created by the triumvirate of Susana Hurlich, Oscar Blas Fernandez Mesa (Cayuco) and Brian Gordon Sinclair.
The Homerun Kid is based on the memories of Cayuco "Jonronero" as translated by Susana Hurlich. Brian Gordon Sinclair adapted and edited those memories while adding new and original material.
DREAMS (written as the words of the Homerun Kid)
"I am a humble man. At least, I hope I am a humble man. But how could I be otherwise? In 1940's San Francisco de Paula we were all humble – poor, proud and humble. That's the way it was then, when I had not yet become Cayuco "Jonronero" – The Homerun Kid.
From the moment I met Ernest Hemingway's sons, Gregory and Patrick, I became their friend, not just a neighbour and playmate but a friend. I was ten years old and like all ten year olds, I was ready for a challenge, ready to become The Homerun Kid.
I was also filled with dreams. I dreamed of having friends from foreign lands. I dreamed of the Christmas Magi arriving with a new baseball glove and uniform and I dreamed of doing something important, of having my name published in the newspaper to be cherished in my memories and shared with my family.
Ernest Hemingway made these dreams come true. He and his sons became my friends and now, because of that friendship, I meet people from all over the world. With reporters from the New York Times, I share baseball memories of shiny, new equipment and fun filled games. At international colloquiums, as humbly as possible, I tell great scholars from many nations what it was like to know Ernest Hemingway.
But some dreams take longer. I longed to have Papa Hemingway share his memories of the children of San Francisco de Paula. He never did. Always, I went to see the movies of Ernest Hemingway, always hoping to see a reference to the children. Finally, in The Old Man and the Sea, I saw a young boy and knew that this child was special, like my friends. But the movie took place in Cojimar and Papa died before writing about the children and the baseball games of San Francisco de Paula.
Now, I am eighty-five years of age and this book may be my last dream. It is my hope to share with you, through love and reverence and humility, the missing details, the true story of The Gigi All-Stars."
There are 25 chapters plus photos and special articles in The Homerun Kid. You will enjoy them all.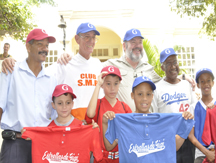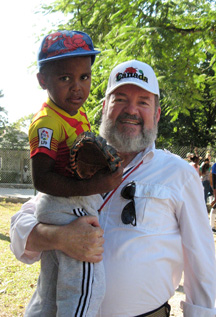 Special Party Invitation + Exhibition Baseball at Museo Hemingway
Free Game Admission to Each and All
WHAT:   Gigi All-Stars 4th Annual Exhibition Baseball Game and Holiday Celebration
Reading of holiday story – excerpts from The Hemingway Monologues: Part Three by "Hon. Papa" Brian Gordon Sinclair/Hemingway On Stage.
Presentation of diplomas to official team members.
Presentation of Hemingway holiday card containing a gift for each player.
Presentation of signed copies of The Hemingway Monologues: Part Three – Death in the Afternoon to the Gigi All-Stars/Estrellas de Guigui.
Special presentation of Cubacan Bats by Canada's Bill Ryan and Gerardo Hernandez.
Holiday cake and party.
Full tour of Hemingway estate.
WHEN:  2:00 PM, Saturday, December 2, 2017
WHERE:  Finca Vigia – Museo Hemingway, San Francisco de Paula, Cuba
WHO:  All Hemingway aficionados and their families are invited to attend. No charge for the game, presentation and tour.
WHY:  It's for the children; it's for Hemingway; it's for you to have a great time.  Do you really need any other reasons?
HISTORY:  In the 1940's, the team was originally formed to provide an activity for    Hemingway's sons when they visited their father. It was named after Ernest's youngest son Gregory, also known as Gig and Gigi. During this time, Hemingway provided uniforms, equipment and drove the kids anyplace they could arrange a game. At Christmas, the children were invited to Finca Vigia (Lookout Farm), the Hemingway estate, where Ernest would tell stories to the children and give each one a present.
Six years ago, The Director of Museo Hemingway and Oscar "Cayuco" – the Homerun Kid – Blas, the 86 year old surviving member of the original team, decided to revive the Gigi All-Stars. It has been my pleasure to assist with that revival. In December of 2013 (helped by members of the Hemingway Look Alike Society) I not only had the privilege of arranging uniforms and equipment for the team but I also revived the storytelling tradition along with the presentation of a gift to each child. One of the stories I told explained how the children stopped stealing mangos from the estate when they had a positive alternative – the great shared North American and Cuban pastime, baseball. The event was so successful that it will continue as an annual event as long as the team exists.
As Patron of the Gigi All-Stars, I summon you, my fellow Hemingway aficionados, to Cuba. I ask that you make this visit to honour the legacy of a great Nobel Laureate. I also ask that you make this visit for the love of baseball, for the love of children and for the love of our common humanity. I guarantee you will love the game; you will love the children and, by the end of your visit, you will love the warm, friendly, generous people of Cuba. This year, let us give the Gigi All-Stars a real present – the banner of friendship from Canada, from all around the world and from you.
Suggestions:
Pre-plan your Christmas holiday schedule. If you plan now, you can make the trip and not interfere with you own family holiday. You will also have the good will of having helped bring some joy to the village of San Francisco de Paula
S. attendees only: Now that the trip is legal, you can fly directly from the USA.
Stay in contact for a special Canadian trip.
Come to the game. No matter what your travel arrangements, the game and presentation ceremony are free.
Bring a napkin. You can eat all the mangoes you want.
FINAL THOUGHT: These are a group of talented and deserving kids who need our support. Your free ticket is reserved. If you can't use it, please tell someone who can.
QUESTIONS?  email me
Tel. 705-435-4814                   Cell 705-717-0839
Note:  Cayuco passed away on Dec. 28, 2016. There will be a special tribute.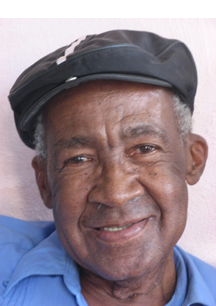 Cayuco Tribute:  Brian Gordon Sinclair
In Memoriam:  Oscar Blas Fernandez Mesa, 1930-2016
How sad I am that I cannot be here in person today to speak of my dear friend, Cayuco "Jonronero". Please, allow me to use some of the words we shared in our book. I thank our dear friend and partner, Susana Hurlich, for speaking these words on my behalf.
In 1940 Ernest Hemingway arrived in Cayuco's Heart. In 2015, Cayuco arrived in my heart. After seeing me perform as Hemingway at the 14th International Hemingway Colloquium, he asked if I could help him prepare a book of his baseball memories – memories of his friends and of Ernest Hemingway.
In adapting the stories of Cayuco "Jonronero", I attempted to enter into his mind and to feel as he felt. The stories, told from the viewpoint of a child through the luxury of historical perspective, appeared simple but were rich in the complexity of compassion. I knew that was true when the writing and reading of the stories brought tears in the most positive of ways. The lessons were valid in the 1940's and are no less valid today. Thank you Cayuco for allowing me to share your life. The experience has been both heart-warming and richly rewarding.
Cayuco showed us a kinder, warmer, more compassionate Hemingway than we had known. He was able to do this because he was kind. He was warm. He was compassionate. In telling his stories, I became kinder, warmer, more compassionate. Some people give a name to these qualities. That name is love. Thank you Cayuco for instilling that love in me. For the rest of my life, I will share that love with everyone I meet and in sharing that love, I will be sharing you. And they, in turn, will share your love. You and your love will go on and on and that love will live forever. Thank you Cayuco and welcome to eternity.
Finally, I will leave you with a short poem which I included in our book:
A golden Smile
A Friend's Embrace
Warm
Gentle
Thoughts
For You
In Dreams
Your Dreams
My Dreams
All Dreams
Sharing
Caring
Moving
Onwards
Ever
Remembering
Forever
Grateful
How proud I am to have worked on this book with you. How proud I am to have been your friend. Please know that my friendship will be with you and your family forever. Maris Luisa, children, grandchildren, Estela – I love you, now and forever.
Brian Gordon Sinclair
Patron, Estrellas de Guigui
The above tribute was delivered at the 15th International Hemingway Colloquium in the Salon of the Hotel Ambos Mundos, Havana, Cuba on June 18, 2017